What Can I Make for You?
FEED YOUR SOUL WITH CREATIVITY
I firmly believe that art is for everyone. So whether you'd like to learn some creative techniques or want a special piece of art for your home, let me add a little art to your life.
PRIVATE LESSONS
custom artwork
cosplay
graphic design
I love helping people learn techniques and gain creative confidence. Learn with a structured curriculum or by working on personal projects that excite you. All styles are welcome and encouraged.
(Sorry, I can't teach oil painting. We don't get along!)
individual lessons or small groups
online or in-person (metro Atlanta only)
available for kids, teens, and adults
mediums available:

drawing skills
watercolor painting
digital illustration
comics + sequential art
polymer clay
cosplay basics
knitting + needle felting
I can make a wide variety of artwork to your specifications. Don't see exactly what you're looking for? Just ask!
landscapes
pet portraits
house portraits
character designs
book illustrations
concept art
mediums available:
traditional dry media

graphite
charcoal
chalk pastel

traditional wet media

inkwash
watercolor
block print

fiber arts

needle felting
embroidery

digital illustration (all media types)
styles available:
realism
painterly
sketchy
block print stylization
modern tattoo flash
US sequential art

1930s simplified styles
1990s animation

Japanese sequential art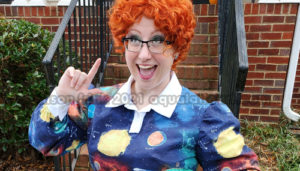 From 2004 – 2012, I was heavily involved in the cosplay community. I created 5 – 10 costumes per year and competed at conventions. (If you're curious, I was 1/3 of the group WEGO4KYOU. I think some of our skits are still floating around the intarwebs.)
Life intervened, so I don't cosplay much for myself anymore. But! I still enjoy creating screen-accurate, gravity-defying outfits to bring your favorite character to life.
costume construction
wig styling
"Always be branding" ~Omin Dran
(Please note that I don't provide printing services.)
business branding

logos
business cards
vinyl banners
advertising layouts